"The story of Muscat Pharmacy is a remarkable chronicle of the vision to push boundaries and seek new horizons."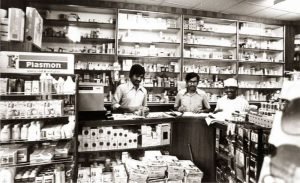 Revisiting Oman some 50 years ago seems like a flashback to another era. From fishing and farming as the only vocation for a living, Oman has traversed a long way, making it a modern developing country with flourishing businesses and industries, dotting the length and breadth of the country. The seafaring tradition gave Oman a centre-stage on the medieval mercantile map. This exposed it to a process of cultural cross-pollination, absorbing outside influences and modern values. Its strategic location between both East-West and North-South is complemented by its tradition of trading and glorious heritage. Continuing this heritage is a trusted name launched over 5 decades ago – Muscat Pharmacy.
The founders, who established Muscat Pharmacy in May 1968, set their horizon to offer healthcare services for a better, healthier Oman. The aim of the partnership was to import, sell and distribute medicines and medical products throughout the Sultanate of Oman. The early years of Oman's renaissance, beginning with the succession of His Majesty Sultan Qaboos Bin Said, gave an unparalleled opportunity for free enterprise and tremendous growth potential.
From October 1997, the legal form of the company was changed and the general partnership was converted into a Limited Liability Company (LLC). Additional activities were included in the memorandum and articles of association in an endeavour to enhance the services to its customers, and the name of the company was changed from Muscat Pharmacy LLC to Muscat Pharmacy & Stores LLC with effect from December 2001.